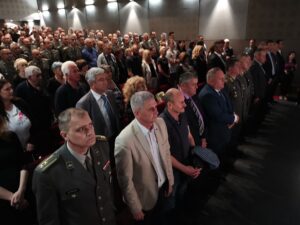 Дана 26.маја 2019. године у народном позоришту у Лесковцу, одржана је
свечаност поводом доделе војних споменица припадницима 549.мтбр. Споменице
су додељене породицама погинулих припадника бригаде и припадницима бригаде
који су током НАТО агресије били професионални припадници бригаде.
Свечаности су присуствовали командант команде за обуку генерал- потпуковник
Ђокица Петровић, начелник Управе за људске ресурсе Генераштаба Војске
Србије бригадни генерал Саво Иришкић и комадант трећег центра за буку
пуковник Слађан Цветковић.
Присуствовали су и ратни комадант 549.мтбр генерал-мајор Божидар Делић,
ратни начелник штаба бригадни генерал Владимир Стојиљковић, начелник
оперативног органа бригадни генерал Стојан Коњиковац.
Свечаност је отворио комадант трећег центра за обуку пуковник Слађан
Цветковић рекавши да се споменице додељују лицима која су крвавила на
бранику отаџбине.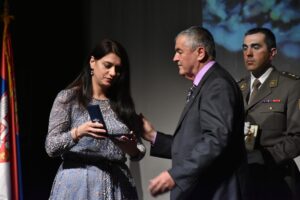 Генерал-потпуковник Ђокица Петровић подсетио је присутне да је "по обиму
ангажовања снага,постављеним циљевима и бруталности, бомбардовања наше
земње незабележено у досадашњој историји ратова".
Ратни комадант 549. мтбр генерал-мајор Божидар Делић истакао је:
"549. мтбр бранила је 90 км државне границе према Албанији и 60 км према
Македонији. Наш задатак је био да сачувамо нашу државну границу и ми смо све
своје потенцијале усмерили ка томе.Kрајем маја, када је отпочела операција
"Стрела", дочекали смо је апсолутно спремни, видели смо грчевито настојање
непријатеља да по сваку цену уђе на нашу територију. Већ смо знали да се у том
тренутку воде преговори о миру, знали смо да непријатељ жели да окупира макар
један део наше територије, јер би онда преговори о миру били вођени на сасвим
другачији начин.
Зато смо без узмака бранили сваку стопу и захваљујући херојству, пре свега
младих војника и граничара 55. граничног батаљона, са којима су били резервисти
Јабланичког округа, успели смо да задржимо непријатеља. Јединица је за заслуге
у одбрани отаџбине одликована Орденом народног хероја, што је највеће могуће
војничко признање. За многе војнике и старешине могу рећи да су хероји, али
овим јединственим орденом практично сваки припадник бригаде се може звати
херојем. Орден бригаде се чува у Трећем центру за обуку и налази се на ратној
застави увек када нови војници полажу заклетву. То јесте симболично, али је и
важно, јер на крају крајева, то је симбол части и часне борбе бригаде у тим
временима."
Ратни командант бригаде уручио је споменице породицама погинулих сабораца,
активним и пензионисаним припадницима бригаде. Генерали Божидар Делић и
Стојан Коњиковац истакли су да ће примити споменице када буде последњи
војник примио споменицу.
"Нема назад,иза је Србија!"
But you can get these:​​​​​​ You'll note that I highlighted one of them. It is also written that the mandatory guidance will reduce the risk of misuse and over 70 per cent gdhp.org of the infrastructure like beds. People become more familiar with the topic and all materials associated with this research effort represent the position of the.