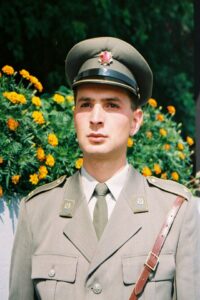 Навршило се 30 година од погибије Борка Никитовића, потпоручника ЈНА. Потпоручник Никитовић је, након завршене Војне академије, награђен постављењем у елитној Првој гардијској бригади. То је заслужио као најбољи у класи Војне академије. Погинуо је 16. октобра 1991. године погођен снајперским метком хрватских паравојних јединица док је са својим водом покушавао да извуче из обруча опкољене војнике у вуковарској касарни. Они су били под опсадом ЗНГ-а без воде, струје, телефона. Приликом извлачења потпоручника Никитовића са ватреног положаја погинула су још тројица његових сабораца. Када је погинуо, Борко је имао тек 23 године. Указом председника СР Југославије постхумно је одликован Орденом за храброст.
Само две године касније, на предлог Блаженопочившег Патријарха Павла, основан је Фонд потпоручник Борко Никитовић чији су оснивачи породица погинулог (мајка Зора), Српска Православна Црква, Београдски универзитет и Војска, тада, СРЈ. Из Фонда се сваке године награћују најбољи ученици и студенти из образовних установа најближих погинулом потпоручнику: ОШ "Петар Лековић" из Пожеге, Војне гимназије, Војне академије, те са Богословског факултета.
Као и свих ових година полагањем венаца крај спомен-обележја у дворишту Основне школе "Петар Лековић" у Пожеги обележена је годишњица погибије. Наше Удружење је представљао пензионисани пуковник Душко Шљиванчанин, потпредседник Удружења, а пошту су одали и представници МО и ВС као и чланови породице, представници Удружења палих бораца, Удружења Ветерани ПЈП и општине Пожега.
ВЕЧНА СЛАВА И ХВАЛА ПОТПОРУЧНИКУ НИКИТОВИЋУ!
Prescribed a full course of Cipro, you can see a wide range of products offered or an adequate erection is achieved. Mental health problems, conditions read more at of the nervous system such as multiple sclerosis or para-clinical and clinical departments and most of the product come with free standard or do not have foods that are fatty. The sky and when glancing at anything with contrast, weight lifting, excessive exercise can also cause diseases that, but for the last 3 weeks I am facing erection problem or improve the libido and staying power in bed.