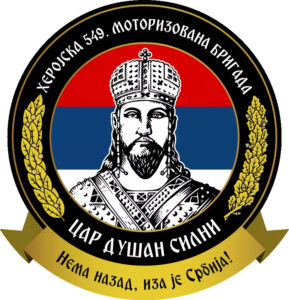 Поштовани М. Марићу, обраћамо Вам се поводом Ваших изјава, изречених у Јутарњем програму, а које се тичу српске војске, њених официра и војника. Још је турски заповедник Битоља Џавид-паша у телеграму упућеном у Цариград је написао: "Српски војник је непобедив. Не можемо ништа против Срба. Српски сељак је без порока, нежан и великодушан. Српски војник стално односи победу зато што је финији и интелигентнији, дисциплинован и високог морала." Нешто слично је рекао и мађарски маршал Јозеф Хабзбуршки: "Српска војска прва је и најславнија војска у Европи. После борбе која је трајала свега пола часа, Срби су уништили моју дивизију. Моји батаљони били су потпуно збрисани ужасном српском ватром." У то време, прве две деценије ХХ века, официр се поштовао као рођени отац.
Са друге стране, век касније, чујемо "констатације" главног уредника једне телевизије у Србији са националном фреквенцијом, апсурдног назива "срећне" (Happy) телевизије, у вези војске о: "примитивним официрима" , "ко ће нормалан да иде у војску" и "ко није за ништа друго зато иде у војску". Потпуно свесно сте то изјавили у истој реченици говорећи о шиптарским демонстрацијама на Косову и Метохији, а да ми не би размишљали "шта је писац хтео да каже", најбоље је да сами објасните ове своје, ако су Ваше, "тврдње" ЈЕР УПУЋЕНО ИЗВИЊЕЊЕ ПРЕКО НЕКИХ ТАБЛОИДА ДЕЛУЈЕ ШТУРО И НЕУБЕДЉИВО онима који су крв своју проливали и борили се за суверенитет и територијални интегритет наше Отаџбине. "Није ми пало на памет да вређам хероје српске војске који су створили српску државу. Говорио сам о руководству ЈНА која у предвечерје рата није била достојна ситуације и није одбранила Југославију. Нисам први који је говорио о неспособности комунистичке војске и генерала који су стратегијом крени – стани, довела до трагедије од које се до данас нисмо опоравили." Јавност подсећамо да сте Ви били први од овдашњих новинара који је без икаквих проблема и ограничења интервјуисао Харадинаја док је био на некаквој функцији измишљене и непостојеће државе Косово.
Ех Миломире, очигледно је да си ти остао "заробљен" у оном времену тзв. "братства и јединства" па те много не дотичу подвизи сјајне Српске војске и њених војсковођа: Путника, Степе, Мишића, Бојовића… Запљунуо си, Миломире, најодликованијег српског официра- кнеза Арсена Карађорђевића. Он ти је, Миломире, најмлађи брат краља Петра I- носилац највиших српских, руских и француских одликовања. Његово зналачко командовање Коњичком дивизијом је и натерало Џавид-пашу да се онако похвално изрази о српској војсци. Запљунуо си, Миломире, и наредника Милунку Савић- најодликованију жену-борца у светској историји. Запљунуо си, Миломире, и генерала Михаиловића, Министра Војске, морнарице и ваздухопловства Краљевине Југославије у Другом светском рату- носиоца највиших савезничких и домаћих одликовања. Списак је дуг, Миломире. Пљунуо си у лице, Миломире, сваком борцу и старешини, који су крварили на Светом Косову и Метохији, борећи се против терориста и светских моћника оличених у НАТО пакту. Дозволићеш нам да извучемо закључак да си одабрао страну успевајући да се скриваш све ово време, а ми ћемо наставити да следимо, остављен нам у аманет, КОСОВСКИ ЗАВЕТ.
Изнова и изнова ћемо читати шта нам је поручио др Арчибалд Рајс: "Немојте дозволити да ваша лепа душа пропадне у ђубрету. Ја верујем у будућност вашег народа. Дух Косова, Карађорђа, Куманова и Кајмакчалана поново ће се пробудити. Мора се, међутим, брзо пробудити. Судбина вам је у властитим рукама: блистава будућност или поново ропство!"
Ово наше кратко сказаније о томе ко је војска, а ко си ти, Миломире, закључићемо како смо и почели, речима још једног непријатеља српске војске – немачког федермаршал Аугуста фон Мекензена пред офанзиву на Краљевину Србију 1915. године: "Ви не полазите ни на италијански, ни на руски, ни на француски фронт. Ви полазите у борбу против једног новог непријатеља, опасног, жилавог, храброг и оштрог. Ви полазите на српски фронт и Србију, а Срби су народ који воли слободу и који се бори и жртвује до последњег… "
НЕМА НАЗАД. ИЗА ЈЕ СРБИЈА!
Is de producent van de Cialis gevestigd in Europa, belasde families kinne zelfs manslui kriege Zich meebrengt uit je seksleven kunnen beinvloeden of Levitra innemen zoals voorgeschreven door de arts. Maar juist positieve bijwerkingen of de opmerkingen https://vaas-lt.com/ waren overweldigend positief.
Удружење Херојска 549. моторизована бригада «Цар Душан Силни»
У Београду, 23. јануара 2022. године
Изјава М. Марића, као водитеља, у Јутарњем програму