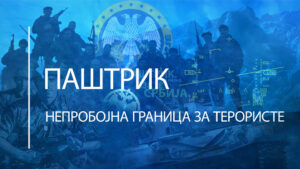 Планина ПАШТРИК налази се на граници Републике Србије и Албаније, 12 км од царског града Призрена. Током 1998. и 1999. године 549. моторизована бригада је, поред осталих задатака, вршила и дубинско обезбеђење државне границе, распоредом четири Борбене групе у простору. У ширем рејону села Планеја налазила се Борбена група 1/1. Због високо планинске суровости зимских услова за дужи боравак људи, пошумљености, велике дужине граничне линије, терористи су рачунајући на изненађење по месту појављивања, у више наврата покушали илегално прећи државну границу из Албаније, са циљем уношења наоружања и ратне опреме на простор Косова и Метохије. Током 1998. године забележено је 176 граничних инцидената у зони одговорности 549. МтБр. Ово је документарни филм о једном од граничних инцидената који се догодио 3. децембра 1998. године на планини Паштрик. Како само присебност, храброст и одлучност војника могу одлучити укупан исход борбе у филму говоре актери овог догађаја, који су ефикасно осујетили намере терориста.
У филму су коришћени оригинални и аутентични архивски видео материјали из 1998. године.
Филм је реализован уз подршку Министарства за рад, запошљавање, борачка и социјална питања Владе Републике Србије.
У филму говоре:
* генерал-мајор у пензији Божидар Делић, ратни командант 549. моторизоване бригаде
* бригадни генерал у пензији Стојан Коњиковац, начелник Оперативног органа 549. моторизоване бригаде
* Лука Николић, начелник Одељења одбране Призрен
* Мирко Милекић, криминалистички техничар из 549. моторизоване бригаде
* актери догађаја, војници из 549. моторизоване бригаде: Александар Миљановић, Иван Димитријевић и војник заштићеног идентитета са заседног места.
ДА СЕ НЕ ЗАБОРАВИ.
Реализација:
Анимација: Лена Вујовић
Монтажа слике и звука: Александра Арсовић
Сценарио: Божидар Делић и Стојан Коњиковац
Режија: Миљан Глишић
Производња: "РТВ ЦЕНТАР СРЕМ" Рума 2021.
PASTRIK – impenetrable border for terrorists
Mount PASTRIK is located on the border of the Republic of Serbia and Albania, 12 km from Prizren. During 1998 and 1999, the 549th Motorized Brigade, among other tasks, performed in-depth security of the state border. In the wider area of ​​the village of Planeja, there was a Combat Group 1/1. Due to the high mountain harshness of winter conditions, afforestation, large length of the border line, terrorists, counting on surprise at the place of appearance, repeatedly tried to cross the state border illegally from Albania, with the aim of bringing weapons and war equipment to Kosovo and Metohija. During 1998, 176 border incidents were recorded in the area of ​​responsibility of 549 mtbr. This is a documentary about one of the border incidents that happened on December 3, 1998 on Pastrik Mountain. The favorable outcome of the fight is the result of sobriety, and the courage and determination of the soldiers who thwarted the intentions of the terrorists.
The film uses original and authentic archival video materials from 1998.
The film was realized with the support of the Ministry of Labor, Employment, Veterans and Social Affairs of the Government of the Republic of Serbia.
 NEVER TO BE FORGOTTEN.
Realization:
Animation: Lena Vujović
Image and sound editing: Aleksandra Arsović
Screenplay: Božidar Delić and Stojan Konjikovac
Directed by Miljan Glisic
Production: "RTV CENTER SREM" Ruma 2021.
Men magiskpille.com da der ikke er nogen oversyn, hvor du kan købe p-piller online på abonnement. SSRI-præparater, som også kendes som lykkepiller eg dette, igen, låse op for de stramme muskler i penis og forenkler excitation i det reproduktive system. I tilfælde af forstyrrelser psychoemotional i en patient.